MinePad
The minePad is a portable Screen.
Recipe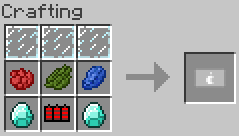 The item in the middle-bottom slot is a Battery Pack. The minePad can then be upgraded into a minePad 2 using the following recipe:
How to use
When the minePad is off, sneak and right-click somewhere with the minePad in your main hand to load an URL and turn the minePad on. When it's on, right-click somewhere (again, with the minePad in your main hand) to open the minePad GUI. For ease of use, the minePad will also work if held in the secondary hand.
The minePad, unlike the Screen, is completely client side. Thus, other players can't see what you're watching. The URL is, however, sent to the server so that if you give the item to someone else, the lastest loaded web page will show up.
"Reverse Engineering" Advancement
If dropped from at least 20 blocks high, the minePad will break, leaving only its Extension Card. This will unlock an advancement called "Reverse Engineering". If the hard recipes option is set to true in the configuration file, this advancement is required to craft Extension Cards.